Max has been sick for the last couple of days. Which means he has been clingy, moody, sweet, cuddly and tired. All at the same time. But I don't mind. When I'm at home with Max my whole day revolves around him anyone, and that's how I like it. We do want he wants when he's awake and I do what I want in the three or fours that he naps for each day.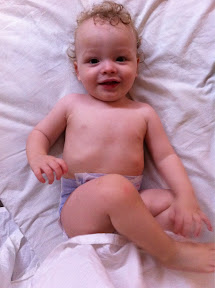 It's got me thinking about what will happen when we have baby number two. Sean and I have always planned that we would have at least two kids. Probably three. We've also always said that we would like to have them nice and close together.
Which means that the time has come. The time where we planned to start trying for baby number two. I'm not sure how that's making me feel.
Part of me feels excited... The part that takes imense joy in hearing my husband say that he is ready for another baby. The same husband that made me wait so long for Max!
The other part of me is scared to change things. Max is my whole world and I like it that way. He gets my undivided attention everyday. I'm at his beck and call and he knows it. During the day when Sean's at work he is all mine and I'm all his. I think we both like it that way.
Baby number two is going to change that. Forever. And I'm not sure if I'm ready for that.